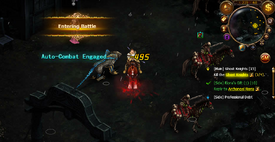 This area can only be accessed as part of a low level main quest, Annie's Dream [15]. In this quest, you are asked to rescue Annie from her dream. The quests that follow let you get to the bottom of the mystery and rescue Annie of
Tidal Town
.
Friendly NPCs
Edit
Annabelle
Lawrence
Macbeth
Jace
James
Annie
Raymond (Merchant, sells HP & MP Potions I to VI)
Eileen Sibil
Geraldine
Monsters / Creatures
Edit
Ghost Pirate (Lv15, HP: 256, MP: 465)
Dream Envoys (Lv16, HP: 256, MP: 465)
Ghost Knight (Lv 17, HP: 288, MP: 525)
Death Seer (Lv 18, HP 576, MP: 555)
Ad blocker interference detected!
Wikia is a free-to-use site that makes money from advertising. We have a modified experience for viewers using ad blockers

Wikia is not accessible if you've made further modifications. Remove the custom ad blocker rule(s) and the page will load as expected.