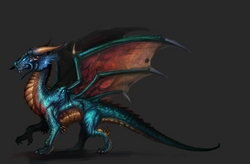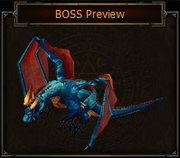 Level: 55
Location: Dark Rainforest

 (X:140, Y:280)

Respawn Rate: 12 hours (after its death)
HP: 5,011,000
MP: ????
Magic Shield
Explosive Strike
Infusion
Fireball
Lightning Strike
Circle of Refuge
Powerful Directive
Headlong Charge
Tornado Chop
Charge
Wild Strike
Wild Strength
Level 50 armor set blueprints for all classes (RH weapon slot, LH weapon slot and Head slot only)

Bag of Coins VI

(50,000 coins)
Level 50 blueprint materials:

Prisoner Shackles

Zealous Will

​

Elemental Crystal

(Level 60 blueprint material)
Level 50 Grade A armor pieces (Head slot only)

​

Gladiator Helmet 

(Knight)

Viper Helmet 

(Hunter)

Infernal Crown 

(Mage)

Slegala's Hood 

(Priest)

Gem Fragment
Ad blocker interference detected!
Wikia is a free-to-use site that makes money from advertising. We have a modified experience for viewers using ad blockers

Wikia is not accessible if you've made further modifications. Remove the custom ad blocker rule(s) and the page will load as expected.