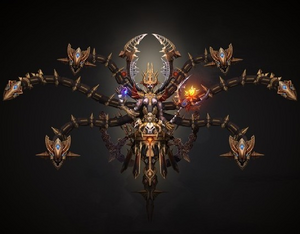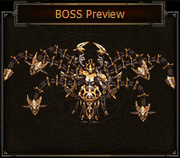 Level: 70
Location: The Forbidden Land

 (X:240 - Y:220)

Respawn Rate: 24 hours (after its death)

HP: ????
MP: ????
Gems:

Lv 1 Opal

(ATK +32)

Lv 1 Belomorite

(MATK +32)

Lv 1 Obsidian

 (CRIT +26)

Lv 1 Pearl

 (EVA +26)

Lv 1 Cat's Eye

 (HIT +26)

Lv 1 Garnet

 (HP Regen +13)

Lv 1 Amethyst

 (MP Regen +13)

Lv 1 Lapis lazuli

 (Max HP +120)

Lv 1 Malachite

 (Max MP +120)

Lv 1 Peridot

 (DEF +48)

Lv 1 Amber

 (MDEF +48)

Level 70 Grade A weapons:

Undead Claymore

(Knight, RH weapon)

Windchaser Bow

(Hunter, LH weapon)

Dimension Staff

(Mage, RH weapon)

Timerift Scepter

(Priest, RH weapon)

Blueprints

Lv 70 armor set blueprints for all classes (for all slots except RH & LH weapon slots)

Sage's Soulstone 

 (Lv 70 blueprint material) 

Coin Chest I 

(100,000 coins)

Dragon Essence
Ad blocker interference detected!
Wikia is a free-to-use site that makes money from advertising. We have a modified experience for viewers using ad blockers

Wikia is not accessible if you've made further modifications. Remove the custom ad blocker rule(s) and the page will load as expected.