Eternal Astral Realm is a dungeon your character can enter at level 70 and above.
You can access this instance 5 times a day (or more, according to your STAR level.)

There is only 1 boss: Elder Kellas.

Dungeon Details
Edit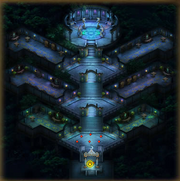 Description
Edit
The last refuge of the Elves, now only the elders reside in this place.
Server Time
Edit
00:00-24:00 (can be entered at any time)
Dungeon Access

Edit
If you want to solo, talk to Sage (location X:165, Y: 164) in Jade Sanctuary.
If you want to go with a group, you can open Team Finder and join an existing one or start your own.
Select one of 4 difficulties: Easy, Hard, Elite or Heroic.
Gems
All Lv 1 gems (excluding the newest attribute gems such as Aquamarine (INT +13), Diamond (VIT +4), Jade (DEX +13), etc.)
Undead

 equipment pieces [Knight]

Windchaser

 equipment pieces [Hunter]

Dimension 

equipment [Mage]

Timerift

 equipment [Priest]
Lvl 70 Blueprint Materials
Edit
Arcane Pendant
Dirty Armor
Dull Earrings
Elven Hair
Exquisite Cloth
Magic Flute
Magic Harp
Slender Bone

Dark Crystal

Sage's Soulstone

 (from boss)
Lv 70 Set Blueprints (Main Weapon slot)
Edit
(From Elder Kellas on Heroic difficulty only)
Ironwill Sword

 [Knight]

Skyshadow Bow 

[Hunter]

Soulmate Staff

 [Mage]

Immortal Scepter

 [Priest]
Miscellaneous
Edit
Transmutation Stone I

 (from Elder Kellas in Elite or Heroic difficulty only)
Ad blocker interference detected!
Wikia is a free-to-use site that makes money from advertising. We have a modified experience for viewers using ad blockers

Wikia is not accessible if you've made further modifications. Remove the custom ad blocker rule(s) and the page will load as expected.