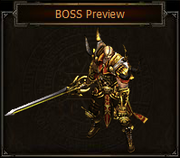 Level: 40
Location:  Castia Corridor

 (X:75, Y:140)

Respawn Rate: 5 hours (after its death)

HP: 900,00
MP: ??
Furious Chop
Explosive Strike
Powerful Directive
Tornado Chop
Fireball
Lightning Strike
Threatening Roar
Headlong Charge
Bag of Coins III 

(10,000 coins)
Lv 40 armor set blueprints for all classes (Right Hand & Left Hand weapons only)

Mediator Pendant 

(level 45 necklace)

Ring of Exile 

(level 45 ring)
Level 40 Grade A (purple) armor (all slot pieces, all classes)

"Fallen One / Fallen" set pieces (Knight)
"Fraudster" set pieces (Hunter)
"Caster" set pieces (Mage) "Ludis" set pieces (priest)
Ad blocker interference detected!
Wikia is a free-to-use site that makes money from advertising. We have a modified experience for viewers using ad blockers

Wikia is not accessible if you've made further modifications. Remove the custom ad blocker rule(s) and the page will load as expected.