Pets by Grade
Edit
Attention to All!: You can make a difference on this wiki ! We need your help to add info and images of the different evolutions/stages in the pet pages below. Refer to these categories:

Missing Pet Images/Pictures
Missing Pet Skill Information

Not sure how to upload/add images? Take a look at this blog post!

Also, if you see a missing pet and you'd like to add it to the tables, add a page link under the right "grade" section, copy the Source mode code on this template and paste it to a new Pet page!

Thanks,

Madamwest (profile | wall | contribs)
WoD Wiki Admin, 22:56, June 27, 2014 (UTC)
Grade C

 PetsEdit
Highest grade with training: Grade B
Icon
Pet
Race
Damage Type

Source

Cost

Centaurian
Magical
Pet Shop / Mall
3,000

Chupacabra

Physical 

• IGG website events

• (n/a)

Efreet

Physical 
Pet Shop / Mall

3,000

Fenix

Magical
• Pet Shop / Mall
•"Fuse" menu (w/ Pet Island shards)

• 3,000
• 100

Gladiator

Physical
• Lucky Slots
• "Fuse" menu (w/ Pet Island shards)

• 35
• 100

Harpy

Physical

(n/a, dropped as loot)


Hellion

Physical
IGG website events (Hellion Day, German website)

• cash, coupons, or cash purchases

Pennance

Magical
Pet Shop / Mall

• 100
• or 800

Scylla

Magical
Pet Shop / Mall

3,000

Shivra

Magical
• Pet Shop / Mall
• Recover the Wings event loot

• 100
• or 800
• (n/a, received as loot)

Tybalt

Physical
• Pet Shop / Mall
• Lv 5 level-up reward

• 100
• or 800
• Free (at Lv 5)

Zagan

Physical

Pet Shop / Mall

• 100
• or 800
Grade B 

PetsEdit
Highest grade with training: Grade A
Icon
Pet
Race
Damage Type

Source

Cost

Amon

Physical
• IGG website events
• (n/a)

Celestia

Magical
• Pet Shop / Mall (Pets > "Blessing" tab)
• 8,000

Chuckie

Magical

• 2013 Valentine's Day event (Login Reward)
• IGG website events

(n/a)

Dantalian

Magical
Pet Shop / Mall (Pets > "Blessing" tab)
8,000

Icarus

Physical
• IGG website events
• Mysterious shop
• approx. 150 million
• approx. 3,800




Lorvat

Magical
• "Fuse" menu (w/ Pet Island  shards)
• IGG website events
• 100
• (n/a)




Mallace

Physical
Pet Shop / Arena Mall
30,000

Pavas

Physical

• "Fuse" menu (w/ Pet Island shards)
• IGG website events

• 100
• (n/a)




Seth

Magical
Lucky Roulette (Lucky Slots)
30
Grade A

 PetsEdit
Highest grade with training: Grade S
Icon
Pet
Race
Damage Type

Sources (Cost)

Amora

Magical
• IGG website events (n/a)

Arctos

Physical
• IGG website events (n/a)

Audacia

Physical
• IGG website events (n/a)

Clare Voyance

Magical
• IGG website events (n/a)

Drakeling

Magical
• IGG website events (n/a)

Draconus

Physical
• IGG website events (n/a)

Fedora

Magical
• IGG website events (n/a)
• "Fuse" menu w/ Pet Island shards, 100

Genie

Magical
• IGG website event, Father's Day 2013 (n/a)

Kringle

Physical

• Christmas 2012 event reward (n/a)
• IGG website events (n/a)

Micah

Magical
• Easter 2013 event reward (n/a)

Rayden

Magical
• Lucky Slots, 30 

Revenant

Physical
• IGG website events (n/a)


Snarley

Physical
• IGG website events (n/a)
• "Fuse" menu w/ Pet Island shards, 100

Wyvern

Physical
• IGG website events (n/a)
Grade S

 PetsEdit
Highest grade with training: Grade SS
Icon
Pet
Race
Damage Type

Source & Cost

Anubis

Physical

Ankerrui

Physical

• IGG website events
cost: coupons or cash purchases.

Carol

Physical
• IGG website events (ex: Carol is here[Dec 20-23])
cost: coupons or cash purchases.

Dirge

Physical
• IGG website events, ex: Destiny Tarot [Jun 25-27]

cost: coupons or cash purchases.

Flameras

Magical

• Celestial Mall (7-star satchel), cost: 12,000 

• IGG website events (ex: Gift Bonanza [May 13])
cost: coupons or cash purchases.

Garuda

Magical
• IGG website events
(ex: Gift Bonanza , Get Lucky [Dec 18])
cost: coupons or cash purchases

Hexate

Physical

• IGG website events
cost: coupons or cash purchases

Jabberwock

Physical

• Celestial Mall, cost: 12,000 

• IGG website events, cost: coupons or cash purchases

Mirusla

Magical

• 

IGG website events

, cost: coupons or cash purchases.

Morphin

Physical

• 

IGG website events, 

, cost: coupons or cash purchases)

coin price:200 million


• 

"Fuse" menu w/ Pet Island shards, cost: 100 

Panzer

Physical
• IGG website events, cost: coupons or cash purchases

Poseidon

Physical

• Celestial Mall, cost: 5,000 

• IGG website events
cost: coupons or cash purchases

Pierseas

Physical

• IGG website events (ex: Pierseas is Here! [Feb19-22])
cost: coupons or cash purchases

Stark

Physical
• IGG website events
cost: coupons or cash purchases

Steatoda

Magical
• Celestial Mall, cost: 5,000 
Grade SS

PetsEdit
Highest grade with training: Grade SSS (Epic)
| Icon | Pet | Race | Damage Type | Source | Cost |
| --- | --- | --- | --- | --- | --- |
| | Drogerion | | Physical | • IGG website events | (cash, coupons or cash purchases) |
| | Dynamo | ??? | Physical | • IGG website events | (cash, coupons or cash purchases) |
| | Gaius | | Physical | • IGG website events  | (cash, coupons or cash purchases) |
| | Harlequin | | Physical | • IGG website events  | (cash, coupons or cash purchases) |
| | Kong | ?? | ?? | • IGG website events  | (cash, coupons or cash purchases) |
| | Luxos | | Physical | • IGG website events | (cash, coupons or cash purchases) |
| | Raygoul | | Magical | • Lucky Slots (Lucky Roulette) | 250  |
| | Saulos | | Magical | • IGG website events | (cash, coupons or cash purchases) |
Additional Links
Edit
Pet Races
Edit
At the "Attributes" tab, you will see an icon at the top-left of the pet's picture that indicate the pet's race. According to their race, pets receive different bonuses:
| Icon | Race | Bonus |
| --- | --- | --- |
| | Angelic | +20% Movement Speed. |
| | Demonic | Target's DEF and MDEF are 15% less effective against Pet's attacks. |
| | Dragonic | +15% damage dealt. |
| | Elemental | -50% Damage taken. |
| | Feral | 15% of damage dealt to enemies recovers Pet's HP. |
| | Humanoid | +50% Max HP. |
Damage Types
Edit
Physical: melee range combat, deals physical damage (according to the pet's ATK value.)
Magical: ranged combat, deals magical damage (according to the pet's MATK value.)
Pet Skills
Edit
In WoD, each pet has a unique skill that will help your character in one way or another.
Refer to the Pet Skills page for a full listing.
Levelling your Pets
Edit
When summoning a pet, you pet will receive exp as your character receives some. When you get enough Pet EXP to reach the next level, this will have the effect of increasing its attributes (STR, INT, DEX, VIT, SPI) which will in turn increase the values of his ATK, DEF, MATK, MDEF, EVA, CRIT and HIT by a small fraction at every level.
There are some exceptions though; a summoned pet will NOT recieve Pet EXP in the following situations:
When praying at the acolyte.
When completing the Escort Quest.
When the pet is of the same level as the character.
When running Powersweep in the backgroud.
When using EXP scrolls.
Note: your pets cannot be of a higher level than your character. If your character is level 77, then the maximum level your pets can reach is level 77, in which case he will stop receiving Pet EXP.
Pets, like characters, follow a non-cumulative EXP system. This means that once you reach a level, the exp counter goes back to "0".
The following table shows the amount of Pet EXP needed to reach each level:
PET EXP Needed per Pet Level
Level
Pet Exp
Level
Pet EXP
Level
Pet EXP
2
152
32
203,732
62
1,012,112
3
616
33
219,136
63
4
1,404
34
64
5
2,527
35
65
1,138,688
6
4,000
36
269,500
66
7
5,832
37
287,712
67
8
8,035
38
306,656
68
9
10,624
39
69
10
13,608
40
70
11
17,000
41
71
12
20,812
42
389,992
72
1,471,972
13
25,056
43
73
1,524,096
14
29,744
44
436,364
74
1,577,384
15
34,888
45
75
1,631,848
16
40,500
46
76
1,687,500
17
46,592
47
77
1,744,352
18
53,175
48
78
1,802,415
19
60,264
49
79
20
67,868
50
595,448
80
21
76,000
51
625,000
81
22
84,672
52
82
23
93,896
53
83
24
103,684
54
719,104
84
25
114,048
55
85
26
125,000
56
86
27
136,552
57
87
28
148,716
58
88
29
161,504
59
89
30
174,928
60
90
31
189,000
61
91
You receive a first pet (a Tybalt) at level 5. When your pet reaches level 15, it can then be enchanced, read the next section for more information.
Pet Enhancement
Edit
When a pet reaches level 15, it can be enhanced to become stronger by increasing its Star Level. This will improve the pet's skill and it will also determine which percentage of its attributes will be used for symbiosis. Each pet has three appearances or "stages". At Star Levels 4 & 7, the pet's apperance will change.
Have a look at the table below. It explains the percentage of a pet's attributes applied to the Symbiosis bonus and the success rate of enhancing a pet to the next star level according to its grade. As the star level of a pet increases, the success rate gradually decreases.
Star Level

% of pet's attributes applied to Symbiosis bonus

Base success rate to reach next star level
(grade n/a)
(grade n/a)
Grade C

Grade B

Grade A

Grade S

Grade SS

I
3%
60%
40%
40%
II
5%
40%
III
7%
20%
30%
IV
10%
20%
20%
V
13%
16%
20%
VI
16%
VII
20%
20%
20%
VIII
25%
20%
IX
30%
Success RateEdit
The pet enhancement success rate expresses a general probabilty of success. With a success rate of, say, 20%, it technically means that each individual attempt has a 20% probability/chance of succeeding, it doesn't mean that you are guaranteed to get 20 successes out of 100 attempts however. You may have to try many times before getting a pet from star 1 to star 9. With luck and coins, it is possible. 
Tip: Star Lv 4 is the first evolution you should be able to get with good odds and a million coins or two.
Be careful, each failed attempt will reduce your pet's current star level by 1. To avoid a decrease, you can use Guardian Fragments which can be obtained from:
Starry Citadel Pack (Siege War pack), available every 11 hours for 30,000 coins when occupied by guild.
Pet Shop" tab of the "Pets" menu (hotkey: P) or the Mall > Pets > "Blessing" tab.), price 8,000 Blessing points.
the Mall (Pets > Items tab), price: 400 cash.
Guild Workshop (hotkey: G > Buildings > Workshop > Guild Item (on page 2), price: 1000 rep.
Lv 80+ World Bosses (Chaos Tyrant, Sinadra, Lord Byss), lootable.
Auction House (hotkey: I), price varies.

To add a bonus success rate, you can use Lucky Runes. Each Lucky Rune level increases your success rate by 10%. 
Ex:  60% (base rate) + Lv 2 Lucky Rune (+20% bonus) = 80% success rate.

Another thing that can increase your success rate is the "Pet Mastery" guild tech. Each Pet Mastery level increases your success rate by 2%.
There is a coin cost to enhance your pet. The cost depends on the grade of your pet and it's current Star Level, see the table below:
Enhancement Cost (in coins, by Star Level)

Pet Grade
1 > 2
2 > 3
3 > 4
4 > 5
5 > 6
6 > 7
7 >8
8 > 9

C

15,000
30,000
60,000
105,000
180,000
300,000
450,000
750,000

B, A, S

100,000
200,000
300,000
400,000
500,000
750,000
900,000
1,500,000
Related ScreenshotsEdit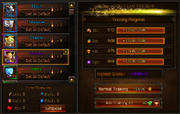 As mentioned in the pet tables above, a pet's grade and attributes can be improved with training. From your "Pets" menu, click on the "Training" tab to train your pets. Take a look at the sample picture to the right; it shows a Celestia receiving Advanced Training.

There are two options to choose from when training a pet:
Normal Training

Edit
Normal training will randomly increase 1 stat by 2 points. Depending on the grade of your pet, it will have a different coin cost, as per the table below.
Advanced Training
Edit
As you might have guessed, advanced training increases more stats by more points than normal training. It randomly increases 2-4 attributes by 6 points each time. All players receive 1 free Advanced Training per level decade (3 between level 30-39, 5 between level 50-59, etc). If you used all of your free tries, you will receive one every 120 minutes until you reach your limit. Another option is to buy extra tries with cash. The table below shows that the cash costs will increase depending on your pet's grade.
Points Thresholds

Edit
According to the grade of your pet, a points threshold must be reached in all 4 attributes (STR, INT, VIT and SPI) to improve the grade of your pets, as mentioned in the table below. Your pet's grade can only be improved once.
ie: Once you reach 400 points in all 4 attributes, a Grade C pet with become a grade B pet, etc.
Grade

Normal Training Cost 

Advanced Training 

Cost

Points Threshold
Grade C
45,000 coins
15 cash
/ 400
Grade B
60,000 coins
20 cash
/ 1150
Grade A
75,000 coins
30 cash
/ 2350
Grade S
90,000 coins
40 cash
/ 4150
Grade SS
180,000 coins
60 cash
/ 6650
Summon Tab
Edit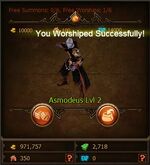 Summoning is the act in which you can summon a deity, Asmodeus. When you summon Asmodeus, you can worship him to increase its level and double the rewards you can claim. You can claim up to 3 different resources: Coins, Blessing Points and Pet EXP. Sometimes when you press summon, you will have the option of claiming only 2 or all 3 of these resource types. If you worship the deity, the same resources will increase on a successful worship.

There are 3 different buttons to press in this menu:
Button
Description
Notes

"Summon Deity" button:

This summons Asmodeus Level 1.

Max summons limit increases by 1 every 10 levels (4 at lvl 40, 5 at lvl 50, etc.)

"Worship" button:

Max worships limit increases by 1 every 10 levels (4 at lvl 40, 5 at lvl 50, etc.).

Failure gives you 30% of the rewards of the last succesful Asmodeus level and the only option is to press "Claim". 

Worships will fail more frequently as you reach a higher Asmodeus level.

Extra worships can be bought with 15 cash.

Claim button:

Press to claim rewards, this will lead you back to the "Summon Deity" button.
Summoning Rewards
Edit
| Rewards | Lv 1 | Lv 2 | Lv 3 | Lv 4 | Lv 5 | Lv 6 | Lv 7 | Lv 8 |
| --- | --- | --- | --- | --- | --- | --- | --- | --- |
| Coins | 5,000 | 10,000 | 20,000 | 40,000 | 80,000 | 160,000 | 320,000 | 640,000 |
| Blessing Points | 50 | 100 | 200 | 400 | 800 | 1,600 | 3,200 | 6,400 |
| Pet EXP | 7,000 | 14,000 | 28,000 | 56,000 | 112,000 | 224,000 | 448,000 | 896,000 |
Pet Talents
Edit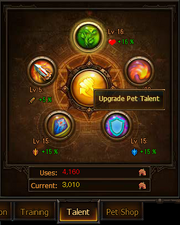 At the "Talent" tab, you can use blessing points you receive from the Summon tab to upgrade Talent and thus increase your pet's basic attributes (MAX HP, MATK, MDEF, DEF, ATK) by 1% per upgrade to a maximum of 40% per talent.
When you get a new 1-Star pet, all talents will all be at level 1 by default. Here are description of the 5 circles found in the screenshot to the right, when you hover over them in the game:
Lifeline of Ammit: Increases a pet's Max HP by 1% per talent level.
Essence of Ammit:  Increases a pet's MATK by 1% per talent level.
Forcefield of Ammit:  Increases a pet's MDEF HP by 1% per talent level.
Shield of Ammit:  Increases a pet's DEF by 1% per talent level.
Sword of Ammit:  Increases a pet's ATK by 1% per talent level.

The talent bonuses your pet receives are permanent and, in turn, count towards the calculation of your symbiosis bonus, unlike War Soul bonuses. (see the section below).
From levels 2 to 40, talents levels can be increased with blessing points only.
From Lv 41-60, the requirements are: 
1x Pet Stone for each talent level increase (Pet Stone I from Lv 41-50, Pet Stone II from Lv 51-60)

After each upgrade, the amount of blessing points you need to upgrade the talent increases, as explained in the table below:
Requirements to Increase Talent Levels
Lv 2-40 (Blessing points only)
Lv 41-60: 1x Pet Stone I / II + Blessing Points
Talent level / Stat Increase in %
Blessing Points Needed
Talent level / Stat Increase in %
Blessing Points needed
Talent level / Stat Increase in %
Blessing Points Needed + 1x Pet Stone I / II
2
100
22
6,510
41
20,000
3
240
23
7,040
42
4
390
24
7,590
43
5
560
25
8,160
44
6
750
26
8,750
45
7
960
27
9,360
46
8
1,190
28
9,990
47
9
1,440
29
10,640
48
10
1,710
30
11,310
49
11
2,000
31
12,000
50
12
2,310
32
12,710
51
13
2,640
33
13,440
52
14
2,990
34
14,190
53
15
3,360
35
14,960
54
16
3,750
36
15,750
55
17
4,160
37
16,560
56
18
4,590
38
17,390
57
19
5,040
39
18,240
58
20
5,510
40
19,110
59
21
6,000
-
-
60
What is important to keep in mind is that, unlike bonuses gained through the Talents feature, the pet bonuses gained through War Soul will not be taken into consideration when calculating the symbiosis bonus. What this means is that this feature will only be beneficial to your pet, unlike Talents which gives bonuses to your pet and your character through symbiosis .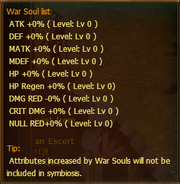 To use this feature, select a pet, then click one of two buttons:
Draw: Receive % of current attribute. By default, it will start at the top with ATK and unlock individual circles in a clockwise order. Unlocked circles give bonuses to your pets, as per the picture to the right.
Draw Max: Auto-level up the current War Soul. Stops when there are insufficient Blessing Points. (This will basically use your blessing points automatically to unlock bonuses in a clockwise order until you run out.)

Also, by hovering your cursor over the small shield icon at the top right corner, players can see the total War Soul bonuses for the selected pet. There is also a level counter at the top left corner that displays your pet's overall War Soul level. By hovering the cursor over the top right corner icon, you will see a summary of the bonuses gained so far, among the 9 available bonuses per level.
Blessing points are used to upgrade your War Soul bonuses.
The first bonus costs 100 blessing points and the cost of each draw increases in increments of 100. (1st bonus costs 100 blessing points, the 2nd bonus costs 200 blessing points, the 3rd costs 300 blessing points, etc.).
Once you've reached level 1, the cost of the first bonus will be 1,000 blessing points and it increase by 100 blessing points as you invest more blessing points.
Sacrificing Pets
Edit
Initially launched in winter or spring of 2014 as pet recycling, Pet sacrifice allows you to permanently eliminate a pet from your pet stable or your bag to recover Blessing points.
It is a quick and easy way to make room for a new pet in your Stable and get something in return or it can be another way for you to get more Blessing points (together with pet summoning and scrolls, etc.)
To use this feature, talk to the Pet Merchant in Forrester City: (location X: 185, Y: 298) or (hotkey: M (Map) > "Shop" tab > click on "Pet Merchant" to auto-path or click the boot icon to teleport to her.)
As you talk to her, you are presented with two options: to sacrifice a pet from your Stable or a pet from your bag.
Sacrificing from your Stable
Edit
attributes
will earn you more Blessing points.
(Note: If anyone has enough experience to caculate how many blessing points are returned per attribute points, feel free to share your findings or to create a table below)
Pet stats by order of gaining more blessing points is as follows: VIT>DEX>SPI>STR=INT
Other factors that affect the blessings obtained is the star level of the pet and its grade
Sacrificing from your Bag
Edit
See the second option screenshot to the right. This option allows you to exchange pets (in item form, pet eggs do not count as pets) that are currently at your Character/Bag menu (hotkey: C). Logically, if no pets appear, it means you do not have pets in your bag.
The amount of Blessing points depends on the grade of the pet (in order: C, B, A, S or SS)  and the star level of the item ("1-star", "4-star", "7-star", "9-star" in the pet's name).
Refer to the following table: 
Blessing Points to be earned
Grade
1-star
4-star
7-star
9-star

C

1,000
1,600
2,200

B

A

20,000
32,000
44,000

S

50,000
80,000
110,000

SS

120,000
192,000
264,000
(please help us complete the table with verified information).
Comparison
Edit
The main difference between the two options is that the first (from Stable) returns a variable amount of Blessing points according to the stabled pet's attributes while the second (from bag) returns a fixed amount of Blessing points according to the pet's grade and star level in its name (as confirmed in the table above.) 
If you want to get Blessing points fast: choose Option 2 ("from your bag"). If you can afford to spend time and resources (coins, training points, etc.), you can opt for Option 1 ("from your stable").
The more resources you have, the less time you will have to spend to get Blessing points. If you don't have a lot of resources, you will have to spend time to get more Blessing points.
To get the an equal or higher amount of Blessing point from Option 1 ("from your stable"), you would have to spend some both time to level them or resources (training points, coins for enhancement, etc) to increase their attributes.

Example: a 1-star Zagan and a 1-star Pennance will each give you 1,000 Blessing points when sacrificed from your bag. These can be bought from the Pet Shop (Pets menu, hotkey:"P" > "Pet Shop" tab) for 800 vouchers. If you buy one of these untrained 1-star Lv 1 pet items and use them to place them in your stable, you will receive fewer Blessing points based on the pet's attributes: 884 point from stable vs 1,000 points from bag, as per the Lv 1 Pennance picture above. Run some tests and find out if increasing their attributes is worth it for you!
If you are a "free-to-play" player (as opposed to a STAR player or "casher") and have a limited amount of vouchers, you could use a mix of both methods to maximize your "Blessing point earned to vouchers spent" ratio.

Example: Buy some Grade C pets and use them to put them in your stable. Then, level them until level X then sacrifice from your stable to receive more than the "from bag" amount of 1,000.
To get more vouchers, there is a recurring IGG event that allows you to get a daily amount of vouchers for 1 character per account according to its level decade. Note: the event is for IGG US players and is not always open. If it is closed (a "Access is denied" pop-up window will appear), verify every few days to see if it is re-opened.
Cash players can use this feature by sacrificing pets they receive by spending coupons at IGG website event pages and from rewards earned by making cash purchases, etc.

In the long run, selecting the best method will depend on your circumstances; on the time and resources (coins, vouchers, Pet EXP, etc) you are willing to spend to level, train or even perhaps enhance pets. Do experiments with the feature to find out how to get the maximum amount of Blessing points at minimal cost and minimal investment of time. This feature can be used casually to make room for a new pet, to get rid of an unwanted pet in your stable or it can be exploited to its full potential to improve your pets with the Blessing points you earn.
If you would like to share your findings about this feature, edit the section above!