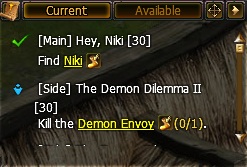 Box with all the current (and available) quests. You can find it on the right side of the screen.
Green tick - the quest is completed, you should visit the quest giver to receive your reward
Blue arrow - quest in progress
Tip: click on the Available button to find out what other quests you can complete for additional reward.
Reason for deletion: This information should be integrated to a "Quest Menu" page of be part of the existing "Quests" page. Also, the information found on this page is quite limited and makes for a short page.
Ad blocker interference detected!
Wikia is a free-to-use site that makes money from advertising. We have a modified experience for viewers using ad blockers

Wikia is not accessible if you've made further modifications. Remove the custom ad blocker rule(s) and the page will load as expected.