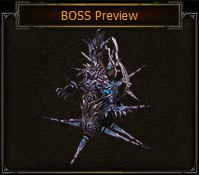 Level: 65
Respawn Rate: 24 hours (after its death)
Location: 

 

Fallen Swamps

 (X:290, Y:200)

HP: 5,560,000
MP: ????
Bag of Coins VI

(50,000 coins)

Coin Chest I

 (100,000 coins)

Gem Fragment

Level 60 blueprint materials:

Elemental Crystal

Elemental Heart

Level 60 Grade A armor pieces:

​

Gladiator Sword 

(Knight, RH Weapon)

Viper Bow 

(Hunter, LH Weapon)

Infernal Staff 

(Mage, RH Weapon)

Slegala's Scepter 

(Priest, RH Weapon)

​

Level 60 armor set blueprints:

​

Shaper Battleaxe [Knight]

(blueprint)
​

Elements Bow [Hunter]

(blueprint)
​

Thunder Staff [Mage]

(blueprint)
​

Light Spirit Scepter [Priest]

(blueprint)
Ad blocker interference detected!
Wikia is a free-to-use site that makes money from advertising. We have a modified experience for viewers using ad blockers

Wikia is not accessible if you've made further modifications. Remove the custom ad blocker rule(s) and the page will load as expected.