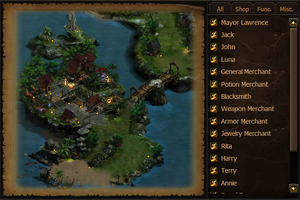 Tidal town is the first area a player enters in Galensya. At the northwest, there is a peaceful village with merchants and quest npcs and in the rest of the area, monsters roam. In the southern and eastern parts of the map, there are enemy npcs to kill for quests.
Adjacent Areas
Edit
Friendly NPCs (Quest Givers, etc.)
Edit
Mayor Lawrence
Jack
John
Luna
Rita
Harry
Terry
Annie (part of the Annie's Dream low-level quest, see area here)
Royal Envoy
Sam's Corpse
Pet - Drakeling
Mount - Wolf
Blacksmith ("Func." tab)
Merchants (Shop Tab)
Edit
General Merchant
Potion Merchant
Weapon Merchant
Armor Merchant
Jewelry Merchant
Enemies / "Monsters"
Edit
Baby Turtle (Lv 5, HP: 96, MP: 180)
Dark Demon (Lv 5, HP: 96, MP: 165)
Dire Prophet (Lv 7, HP: 225, MP: 225)
Evil Spirit (Lv 7, HP: 128, MP: 225)
Thief (Lv 7, HP: 128, MP: 225)
Mad Solider (Lv 10, HP: 160, MP: 315)
Vagrant Mage (Lv 10, HP: 1575, MP: 225)
Ad blocker interference detected!
Wikia is a free-to-use site that makes money from advertising. We have a modified experience for viewers using ad blockers

Wikia is not accessible if you've made further modifications. Remove the custom ad blocker rule(s) and the page will load as expected.